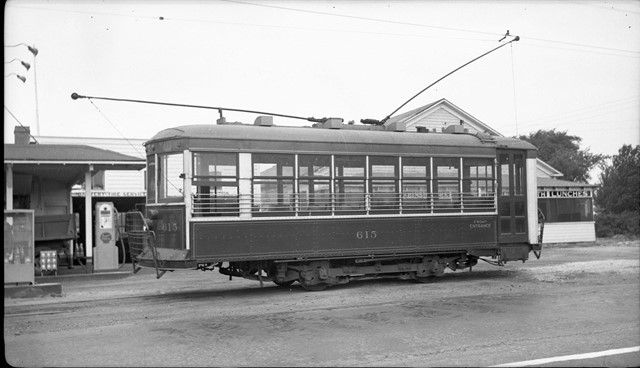 Builder

Wason Manufacturing Co.

Description

Birney safety car

Secondary Use

None

Type

City and Suburban Streetcars

Year

1920

Retired from Service

1941

Acquired by the Museum

1941

Fund

819
Portland Railroad Co. 615
From Portland, Maine
History
The Birney car was designed by Charles O. Birney of the Stone & Webster engineering staff for use on the many street railway properties owned by that firm. It was also licensed to numerous carbuilders for general sales. The Birney car had a relatively small seating capacity (30-32 passengers) and was designed for one man operation. With only a single, light-weight, two axle truck, the Birney cars had a tendency to gallop on anything but the smoothest track. Some 6000 Birney cars were built from ca. 1916 - 1930, and the cars operated in many cities across the U.S., Canada and overseas. Their economical operation extended the street railway era in numerous cities. A key feature of the Birney cars that allowed one-man operation was the "deadman" safety device. The operator needed to keep constant downward pressure on the controller handle or the car would go into emergency braking. So, the Birney cars were also called "Safety Cars." No. 615 is one of eight Birney cars built by Wason for the Portland Railroad in 1920. They followed 15 other Birney cars from Wason a year previously. The Portland Railroad operated 200 cars and over 100 miles of track extending between Saco, ME on the south and Yarmouth, ME on the north. Portland's last trolleys ran in 1941. The Portland Railroad sold No. 615 to the Biddeford & Saco Railroad in 1936. All but two of Portland's 23 Birney cars were sold to the Biddeford & Saco in 1936 and 1937 and were so numerous compared to the previous equipment, that they were run until they broke down, and then stored in favor of a working car. No attempt was made to renumber them into the Biddeford & Saco system of odd for open and even for closed. No. 615 operated on the B&S between Biddeford and Old Orchard Beach until B&S ended trolley operation in 1939. The scrapper dismantling the cars and buildings of the Biddeford & Saco used the body of Car 615 as an office for the duration of the work and subsequently sold it to Seashore in 1940. No. 615 was used as the museum's first bunkhouse and later served as the office. Seashore then placed No. 615 in storage. No. 615 lost its original two-axle truck in 1939. No. 615 is the only surviving Portland trolley. The National Park Service has listed No. 615 on the National Register of Historic Places.
Technical Information
Seats: 32
Control: K-63BR
Trucks
Number: 1
Manufacturer: Brill
Model: 79E
Motor
Number: 2
Manufacturer: General Electric
Model: 506
Weight and Dimensions
Length: 28'
Width: 7' 8.00"
Height: 9' 10.00"
Weight: 15980 lbs.
© 1998 - 2023 New England Electric Railway Historical Society. All Rights Reserved.