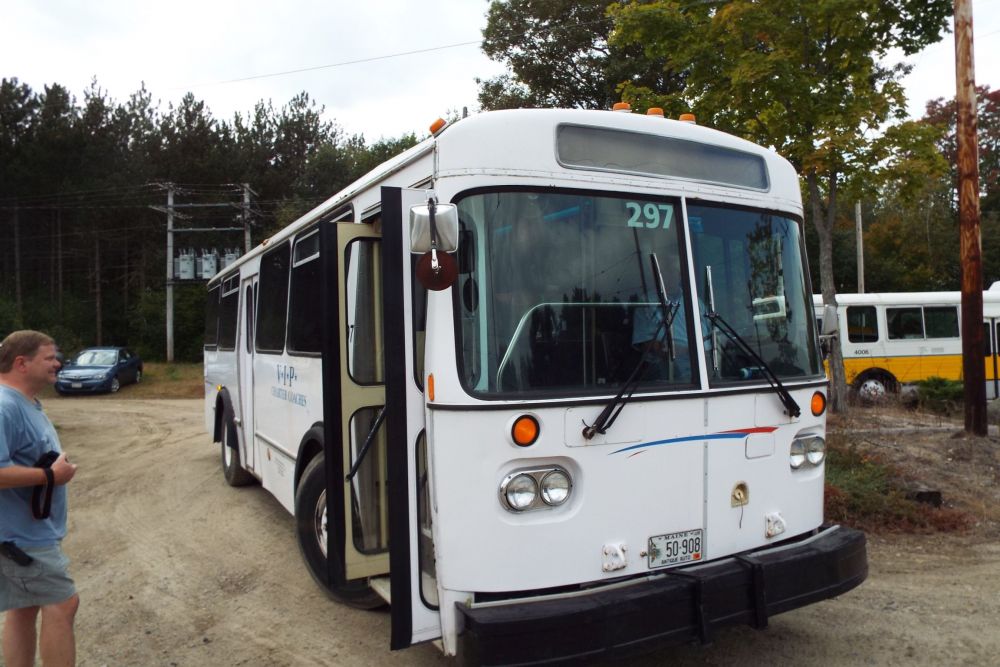 Kenyon F. Karl on 10/7/17
Builder

Bus Industries of America

Description

Rear engine bus

Type

Motor Buses

Year

1987

Acquired by the Museum

2006

Note

No. 297 needs some repainting but is otherwise in good condition.
VIP Coach 297
From Portland, Maine
History
No. 297 is an Orion model bus produced by Bus Industries of America. Bus Industries of America was a subsidiary of Ontario Bus Industries which was formed in 1975. The company termed its bus model the Orion. It was intended for smaller transit systems or low density routes, although the Toronto Transit Commission a major customer. The Orion was designed for easy maintenance and had a sleek, modern appearance. Ontario Bus Industries expanded to the United States market in 1981. To meet "Buy American" requirements of U.S. transit agencies, the company formed Bus Industries of America with a plant in Oriskany, NY. This bus was purchased in 1987 as No.701 by the Merrimack Valley Regional Transit Authority (MVRTA) as one of six buses (Nos. 701 – 706) purchased for use in the Merrimack Valley of Massachusetts (Lawrence, Lowell, Haverhill, Andover, North Andover, Newburyport and other smaller towns). They were disliked by MVRTA, and all six were resold. No. 701 was transferred (no money paid) to Cape Cod Regional Transit Authority (CCRTA), based in Hyannis, MA, as their No.297 where it operated for years. MVRTA and CCRTA are both state agencies that started in 1976 and that provide local transit service. CCRTA later sold No. 297 as well as their No. 298 (ex-MVRTA No. 702) to VIP Tour & Charter Coach in Portland, ME. At VIP, the two Orion buses retained their fleet numbers from Cape Cod and entered sightseeing and charter service, mostly in the Portland Area. VIP donated No. 297 to Seashore in 2006. At times, No. 297 carried visitors around the museum campus.
Technical Information
Seats: 31
Engine: Detroit Diesel
Tires: 8.25 x 22.5
Weight and Dimensions
Length: 31'
Weight: 32000 lbs.
© 1998 - 2023 New England Electric Railway Historical Society. All Rights Reserved.